This post is about revamping your old t-shirts. First we're going to start out with cut out designs.
CUT OUT HEARTS
Materials:
Scissors
sketch paper( or regular)
Fabric glue
Extra fabric
Pins
STEP ONE
Lay your t-shirt down on a flat surface. Face the front upwards and grab your scissors. Now you're are going to cut the sleeves off. (DO NOT THROW THE SCRAPS AWAY)
STEP TWO
Grab your sketch paper and draw your heart. Your heart can be as big as you want it to be, depending on the size of the shirt.
STEP THREE
Grab your shirt and face the back upwards. When've done that we're going to pin the heart to the back or wherever you want it. Pin the heart to the shirt and grab your scissors and begin cutting out the heart. When you are done it should look like this.
STEP FOUR
Grab your shirt and turn it inside out. Grab your extra fabric and glue it. The back of the shirt should be facing upwards. Put your glue around the heart area and place the fabric over it. Press your hand on the fabric until it dries. When it's dry you can the cut the remainder of the fabric if there's some left. When you're done turn it on the right side and it should look like this.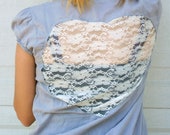 STEP FIVE
Grab your scraps from the shirt sleeves. cut it into three and braid it. Make sure its long enough to go around the heart. Once you're done braiding it, grab your glue and glue around the heart. When you are done place the braid over the glue, make sure to go all the way around. When you're done let it dry see if it needs more glue. When you're sure that it looks completely okay try it on, it should look something like this.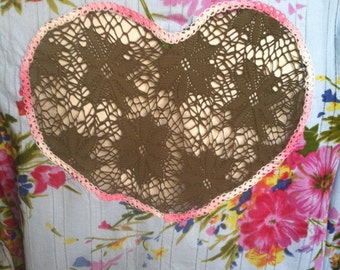 You can do this with rubber bands too.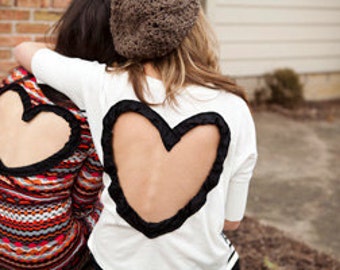 That's it you are done! you now have a new shirt.
Thanks so much for reading this post and do comment if you have any questions. I hope this tutorial helped you.